All Creatures covers a species a week, describing the animals natural history, physiology, behavior, mating strategies and more. We also interview conservation experts from around the globe sharing their incredible stories and how they fight for conservation of the planets most endangered animals.
Episodes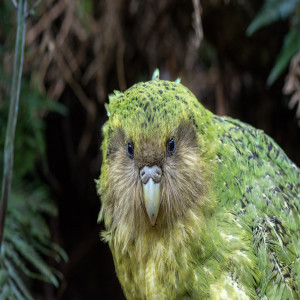 Wednesday May 25, 2022
Wednesday May 25, 2022
The critically endangered Kākāpō is one of the more endearing species we have covered to date. This flightless parrot is native to Aotearoa New Zealand and was nearly extinct in the late 20th century. It is only through the commitment of the New Zealand Government and her people that the Kākāpō is still in existence. Today there are over 200 of these birds that are being cared for and guarded off Aotearoa New Zealand's coasts. This is just an amazing bird that surprised us at every turn. They truly deserves your love and another species you cant miss. 
For one cup of "good" coffee a month you can support your favorite podcast on Patreon and give back to conservation. With your support we are able to send money to conservation organizations monthly chosen by our Patreon supporters. We recently posted a bonus episode, the Blue Footed Booby, for our Patreon only subscribers and will be offering more bonus content soon! Thank you so much for your support and for supporting animal conservation. 
Please considering supporting us at Patreon HERE.